Search engine promotion for an online auto parts store (SEO) – a set of measures aimed at increasing the level of website traffic. Allows you to increase the number of users who came to the site from search engines for targeted queries. The main task – bring the resource to the top positions in the search results of Google, Yandex and attract as many potential customers as possible.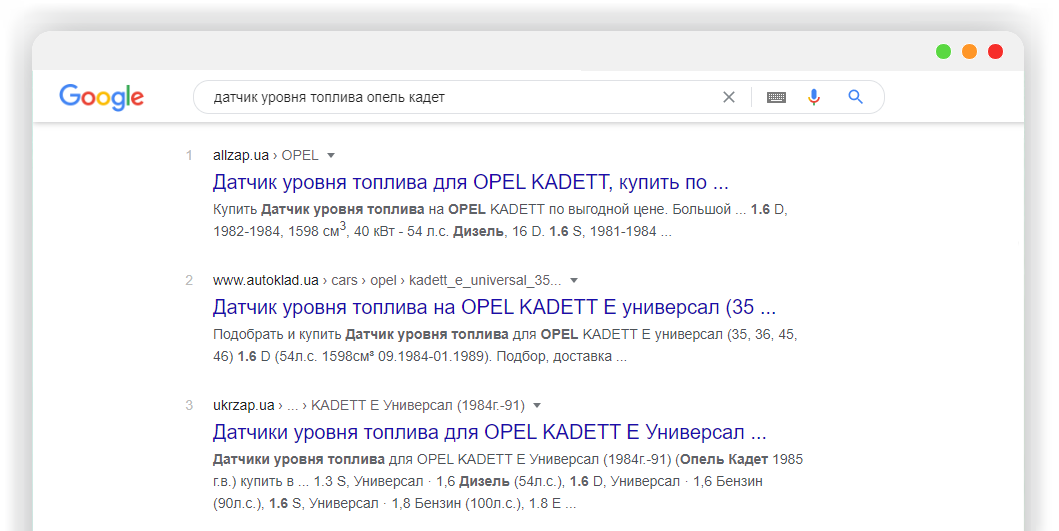 Promotion steps
During the development of Allzap CMS 2.0, the main technical points of promotion were taken into account, which makes it possible to simplify the process as much as possible. Conventionally, SEO can be divided into two large stages: internal and external optimization. As part of the SEO promotion service, our company's specialists work with both internal and external ranking factors:
Developing a promotion strategy;
Select keywords;
Mass optimization of pages;
We create effective landing pages, useful and necessary content;
Creating a valid robots.txt file;
Growing links, etc.
Promotion of the spare parts website in the search – complex and costly process. Without experience, it is extremely difficult to achieve a positive result. That is why it is important to entrust SEO to professionals!
Multi-brand online store
Promotion region: Ukraine
Daily traffic: 400+ users
Promotion terms: 9 months

Multi-brand online store
Promotion region: Ukraine
Daily traffic: 700+ users
Promotion terms: 24 months

Multi-brand online store
Promotion region: Ukraine
Daily traffic: 1600+ users
Promotion terms: 36 months

Submit a request
The manager will contact you shortly and answer all your questions