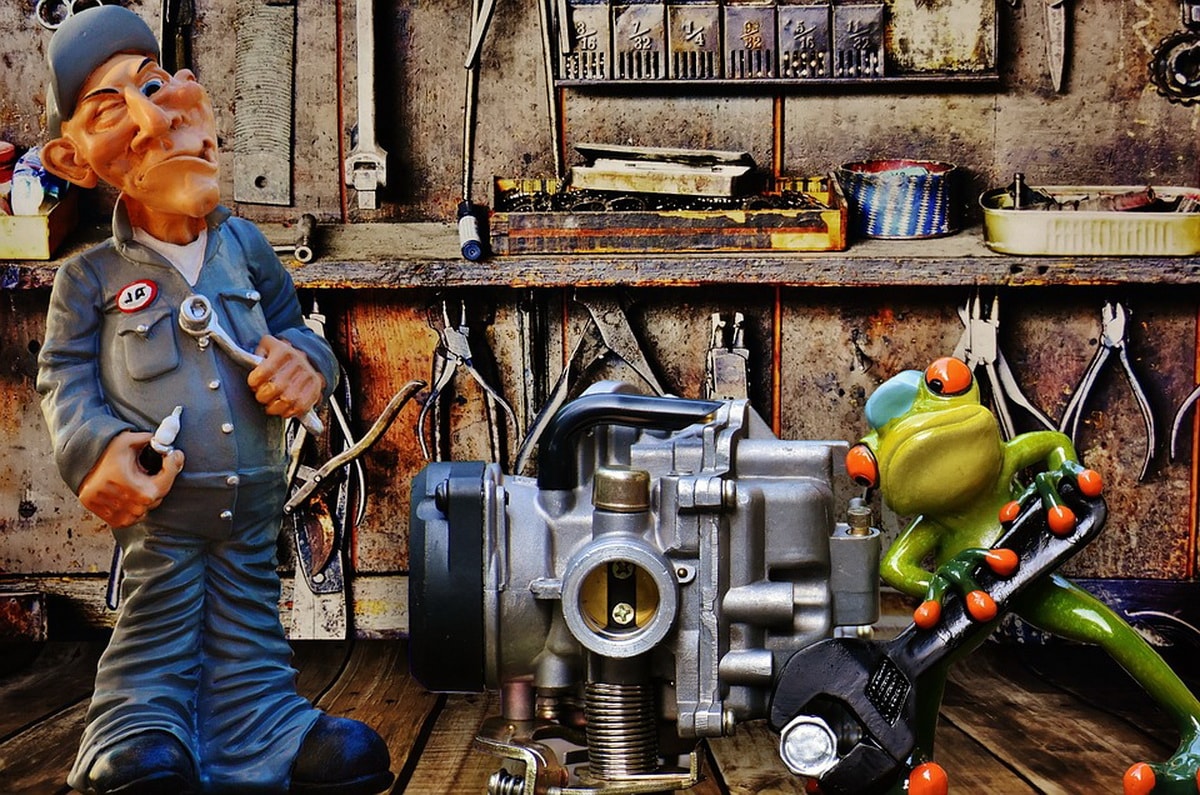 Opening an online auto parts store – a great option not only to start & nbsp; business, but also for its development. This is how 95% of articles on the topic "how to open an online auto parts store" begin.
We'll start differently. Auto parts business in – this is hell. And, if you really believe it's easy, you'll be devoured before you even know it.
Demand analysis and direction selection
The automotive world has more than 1,300 car brands and over 4,000 brands. Traditionally, online stores work with 50-60 brands represented in Ukraine.
Even if you are well versed in your niche and understand what parts are in demand and what are not, when moving from offline to online, you can expect a shock. Not everything that is bought in a brick store or in the market will be bought via the Internet and vice versa.
The situation is similar with car brands, for example, Toyota spare parts, based on search engine statistics, are searched for, and therefore bought, much more often than Ford, Jeep, or Volkswagen.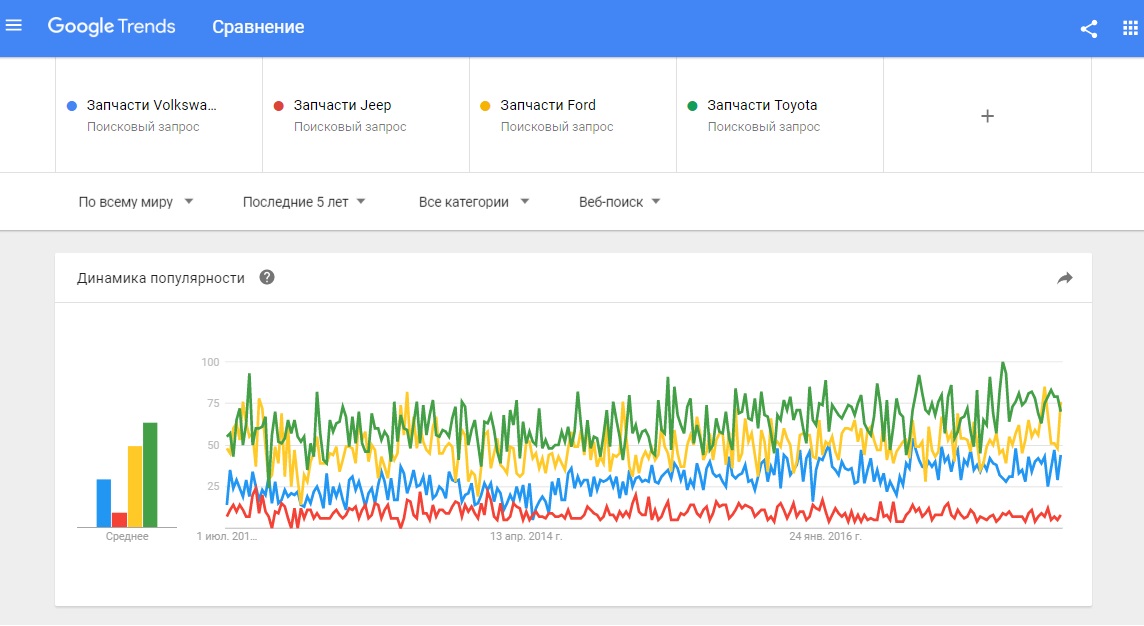 When deciding to open an online store, you must clearly understand what parts and for which cars you will sell. This information will help you decide on the structure of the future site and simplify the search for suppliers.
There are two options:
Multi-brand online spare parts store
Mono-brand online spare parts store
A multi-brand online auto parts store allows you to sell parts for cars of various brands (for example, Audi, BMW, Renault, Ford, etc.), mono-brand – specializes in one (for example, only Audi).
For both options, it is acceptable to embed additional directories – tires, oils, tuning, accessories.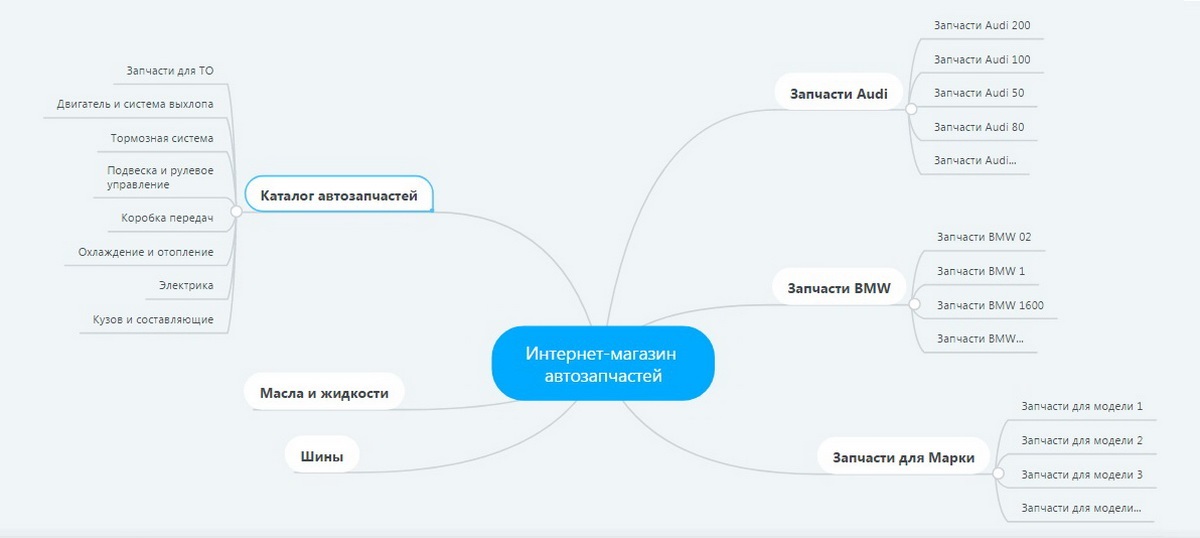 An example of a multi-brand online spare parts store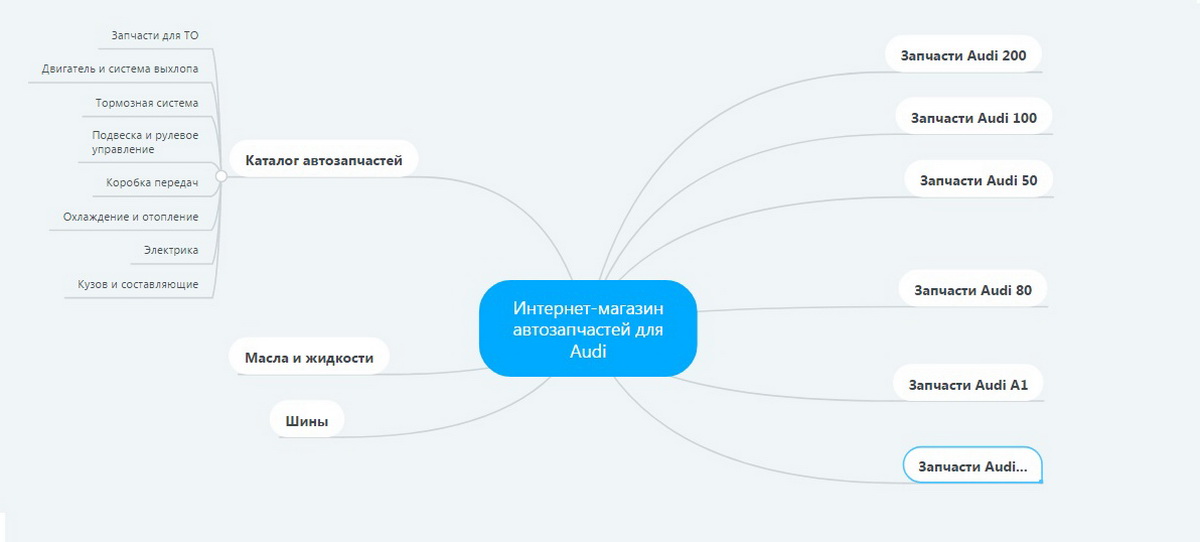 Example monobrand online parts store
At the initial stage, you want to sell "everything at once", but it is not always easy to make your desire come true. Much more rational – choose priority brands and categories, based on the characteristics of demand in your region.
Study auto parts statistics, this information will help you decide on the leading brands and categories. That is, with those that will become the main source of income for the duration of the promotion.
It is also important to make sure that each user, regardless of the level of training and experience in the selection of spare parts, is comfortable looking for parts for their car. There are several proven, most convenient and effective options:
Car brand – Car model - Car modification – Auto parts group – Spare part;
For example: Audi – Audi 100 - Audi 100 (43, C2) 1.6, engine 1588 cc, 85 hp, 4 cylinders, petrol engine, sedan, 1976-1982 – Engine parts – Piston - MAHLE ORIGINAL 034 54 00
Auto – Auto parts group – Car brand – Car model – Auto modification – Spare part;
For example: Engine parts – Piston - Audi – Audi 100 - Audi 100 (43, C2) 1.6, engine 1588 cc, 85 hp, 4 cylinders, petrol engine, sedan, 1976-1982 – MAHLE ORIGINAL 034 54 00
Part number – Spare part – Replacement parts;
For example: 034 54 00 – Piston MAHLE ORIGINAL 034 54 00 - Piston KOLBENSCHMIDT 93356600, Piston AUDI 049 107 065 A, Piston VW 049 107 065 AF
VIN number of car – Manager's consultation (the manager uses any of the above schemes)– Spare part;

Auto Parts Options
Step by step, specifying the information about his car, the client selects spare parts with high accuracy, without the participation of a specialist. This allows not only to increase the level of ease of use of the site by the client and the manager, but also gives advantages in Internet marketing.
To open an online spare parts store of this level of functionality, you will need professional, highly specialized software.
Software
A multimillion-dollar assortment and the need to organize several options for the exact selection of spare parts for a particular car greatly complicate the task of opening an online store.
Like any website, online spare parts store can not do without:
CMS;
Hosting;
Domain name.
CMS
CMS – "engine" online store is used for content management, i.e. information provided on the site. Spare parts site boxed public CMS is not suitable due to limited functionality and low performance.
To ensure the correct operation of the online spare parts store, highly specialized software is needed, tailored to solve specific problems. There are two options :
Using SaaS solutions;
Developed from scratch.
SaaS implies the use of a completely ready-made software product on a leasehold basis. When making a decision, you see what your site will be like, you can objectively evaluate the functionality, performance, design, usability and other points that are important to you.
In addition, the use of SaaS-platform is more profitable from an economic point of view. Renting a ready-made online store allows you to reduce costs and significantly speed up the launch of an e-commerce project by moving from capital to operating costs in the first days of work .
Developing a website for opening an online spare parts store from scratch is very expensive. The price starts from $ 2500, hosting is additionally paid. Of the benefits – you get a site created "for yourself", from the shortcomings – not the fact that you will receive what you originally ordered. Individual solutions need to be tested, improved and constantly upgraded. These are additional costs that increase the cost of the project by an average of 50-300%. At the initial stage, 9 out of 10 entrepreneurs are not ready for this.
Domain name
You can choose a domain name yourself, based on the name of your site. You can check available domains at any registrar, for example - imena.ua, ukrnames.com and others. Choose the most simple, thematic and memorable option. As a rule, the domain name repeats or intersects with the name of the online store.
Hosting
The cost of renting a dedicated server starts from 100 € per month – this information will be useful to you if you are planning to develop a website to open an online store from scratch. The high cost is justified by no less high technical requirements due to the load on the server. Spare parts website – this is a colossal amount of information, millions of products, cross-links, pages that the CMS must retrieve from the database over and over again. Standard hosting, like the standard "engine" can't handle the load.
The use of SaaS solutions helps to save money and relieve yourself of the need to constantly think about the site's performance.
Suppliers
If you have been working in the auto parts industry for a long time and have an established supplier base, you can skip this step. However, expanding the range adjusted for e-commerce has not hurt anyone yet.
When choosing suppliers, pay attention to three criteria:
Price
Each supplier has its own system of discounts for customers and partners. As a rule, the cost of goods for you is tied to the volume of purchases. If you try, you can find suppliers who offer their customers the so-called grace period – 3-6 months during which you get the maximum discount. This is a considerable bonus if the online store – the starting point of your business.
Delivery times and shipping costs
Any customer wants to receive their order as soon as possible. The shorter the time interval between the order on the site and delivery, the higher the likelihood that the item will be bought from you. Therefore, try to choose suppliers who always have the required parts in stock. The second important point – cost of delivery. Give preference to suppliers who deliver goods to the address specified by the wholesale customer (i.e. you) for free.
g>Return of illiquid assets
In any trade there is a concept of illiquid assets. It is not necessarily a faulty or defective item. Under the illiquid should be understood everything that "hung" in your warehouse: the manager mistakenly ordered the wrong spare part, the buyer refused the order, the product did not fit, etc. Each supplier has its own return procedure, there are non-returnable groups of auto parts, non-returnable brands, etc. First of all, look for a supplier who is always ready to meet your needs and be sure to specify the return conditions.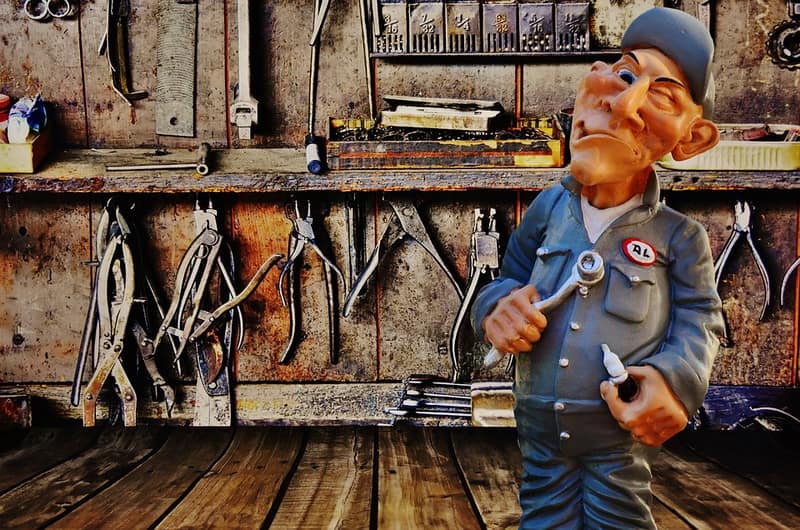 Markups
For each group of auto products – own markup. "General temperature in the hospital" missing completely. For expensive auto parts, the average markup can be 30%, for accessories – 100% and above.
For the main array of goods, the pricing policy is formed taking into account the previous criteria for selecting suppliers:
Minimum Markup (5-30%)
Suitable for suppliers offering not always the lowest price. Their advantage is prompt and free delivery, hassle-free returns and fast crediting of refunds to the client's account;
Average markup (30-40%)
The most massive margin for suppliers that betray standard conditions is collaborative without obvious bonuses;
Max markup (from 50% and above)
For intermediaries and those suppliers with whom you do not always want to work, but due to circumstances you have to. For example, their assortment includes products that no one else offers, or delivery times are reduced to the minimum, etc.
Thus, the product of the supplier to which we assign the minimum markup, at the input price, may be more expensive than the product to which we assigned the maximum markup. However, the end consumer, having familiarized himself with the prices and delivery times on the website, will choose the offer with the minimum price, i.e. from the supplier we need. The question is logical: what is our benefit if the extra charge – this is a profit, and the buyer chooses a product with a minimum premium in price? Our benefit is that by working as often as possible with an adequate supplier, we develop a base of regular, satisfied customers, and save ourselves from problems with illiquid assets.
Given that in 8 cases out of 10 the current car owner chooses a cheap analogue instead of an expensive and high-quality original spare part, return issues will arise, there is no getting away from this.
Don't forget that the maximum markup – this option is not for "expensive" suppliers, but for problematic ones. In the event that the goods are illiquid, you do not have to enter into proceedings for the return – your loss will be covered by the total margin for the supplier.
In other words: try to sell goods from a supplier that offers not the lowest price, but favorable terms of cooperation and its support.
This is the simplest example of organizing a pricing policy, which is suitable for the first weeks of an online store. Based on the same principle, markups are best set individually, i.e. for each supplier separately.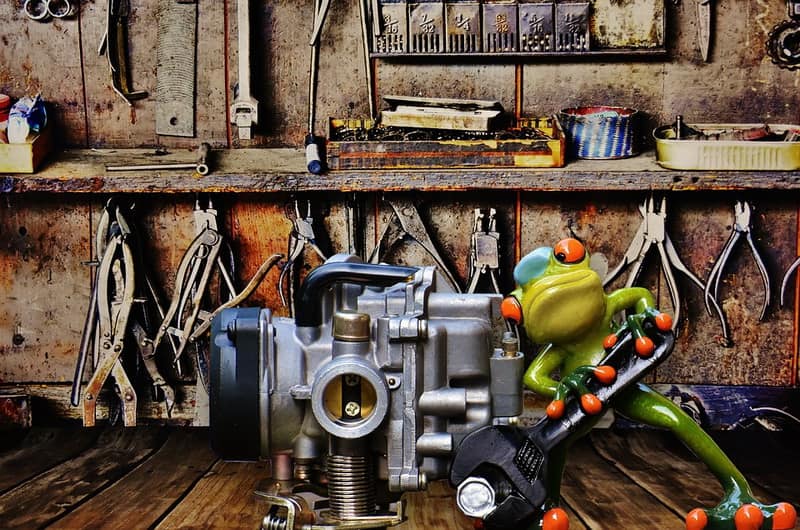 Internet promotion
Just launching a website is not enough to open a profitable online store. Potential clients won't know about it until you take a step forward.
The Internet opens up a lot of opportunities that allow you to get closer to the client in a short time and receive a record number of orders a few days after the launch.
Most popular methods:
SEO promotion;
Contextual advertising;
Advertising in price aggregators;
Display advertising
Social networks + targeted advertising
SEO
The most popular and effective method for those who do not pursue short-term goals. Search promotion – a long and costly process, but the most effective in terms of returns. 80% of users trust search results more than ads.
Contextual advertising
Contextual advertising is many times superior to SEO in terms of the speed of obtaining results. No need to wait several months – applications on the site can be received on the day of the launch of the advertising campaign.
Advertising ads are displayed above the search results and are shown only to interested users based on the requests they make to the search engine.
The principle of operation is extremely simple – you only pay for clicks to your site.
Advertising in price aggregators
Price aggregators – large sites and portals that offer their users to compare prices. To receive orders, dosaccurately upload the assortment of your store to the site of the corresponding subject. For auto parts it is:
hotline.ua;
zzap.ru;
auto.ria;
price.ua;
allzap.ua and others.
The terms of payment for advertising services are different for each site, but in most cases – this is the cost per click.
Display ads
Display advertising is placed through intermediaries. Allows you to fine-tune the parameters of the audience to which you want to show it. Therefore, even with a minimal budget, you can declare yourself loudly enough.
Social networks (SMM marketing)
A modern Internet user spends an average of 143 minutes on social networks. This trend cannot be ignored.
The most popular ways to promote an online store in social networks:
Communities, groups, public pages;
Targeted ads.
The advantage of advertising in social networks is the possibility of fine-tuning. The audience can be selected according to the following criteria: gender, age, region of residence, interests, education, marital status, place of work, etc.
The market is not owned by monopolists. Hundreds of online stores find their customers and successfully sell spare parts both wholesale and retail. However, this requires work. A lot, long and hard. Follow the recommendations and learn from the mistakes of others to avoid your own ;)